The current government on 1st February 2019, announced the interim budget which will be followed by the detailed budget announced by the then elected government later this year. It was announced by the interim finance minister Piyush Goyal in place of our current finance minister Arun Jaitley, who is in USA seeking medical treatment. Conventionally during an election year, the previous governments have had an unsaid tradition of not declaring huge decisions and making big promises because of the contradictory ways in which it can be perceived. But the current government, true to itself, decided against it and made some huge claims and big announcements which made a lot of buzz and left an in-between impression on the scale of being too arrogant to covering their faults through appeasements among the people. Hence, this was destined to be much more than an interim budget as it was also an election manifesto, a platform to enunciate their achievements and a rough plan for future India all jam packed into one.
However, believing in everything that was said on its face value demands a high degree suspension of disbelief and delusion. One knows distinctly well that all decisions and claims made by any government should always be taken with a pinch of salt and that all quotes should always be accompanied by the conditions applied mark (*). So, when the budget was being announced factchecker.in did a live fact check on their Twitter profile of all the claims that were made and followed it up with further updates later on.
The detailed budget can be read here. The key and major highlights from the budget were as follows :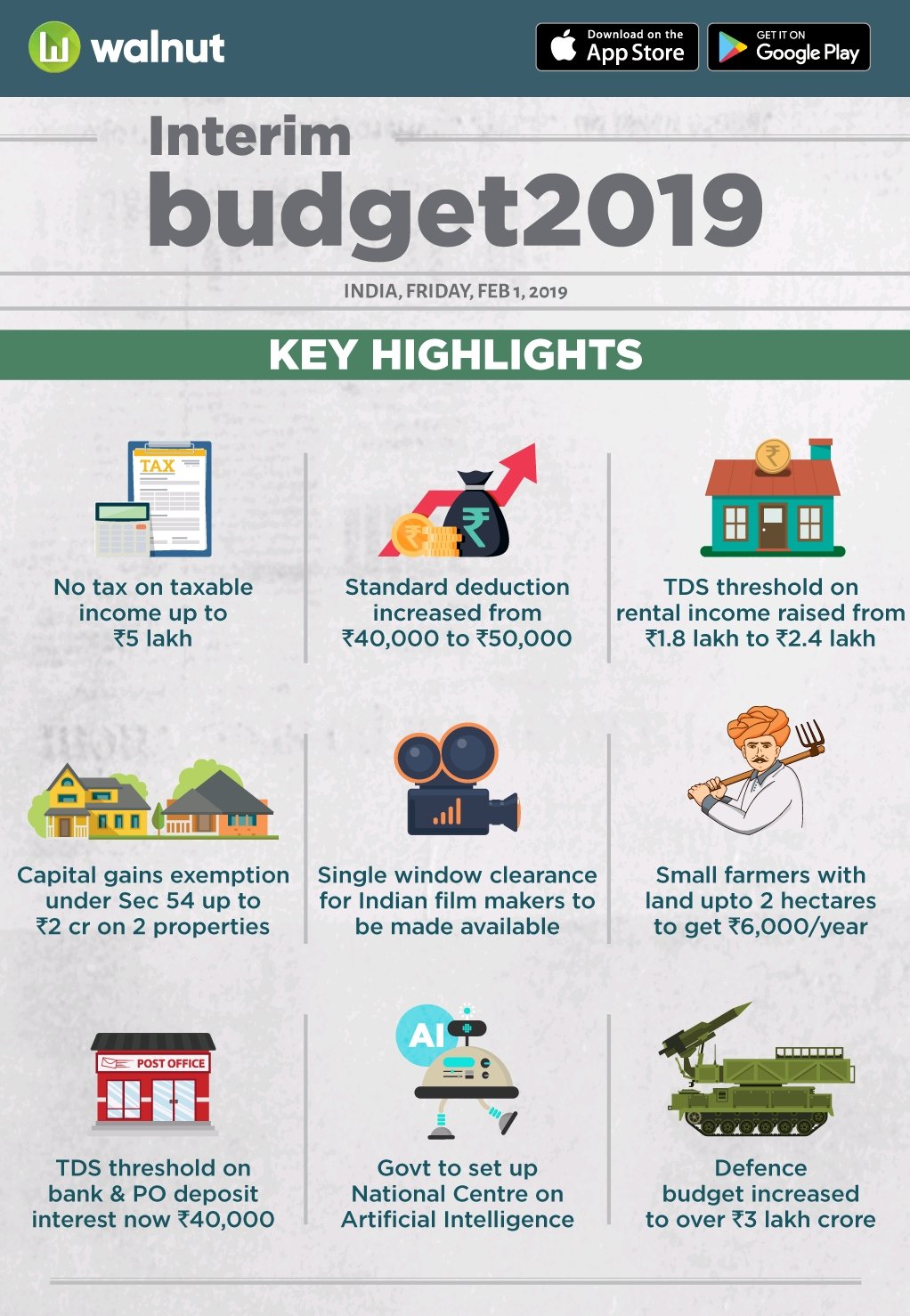 A new method of was started with the announcement providing Rs 6000 to farmers on an yearly basis which is in line along the view of UBI (Universal Basic Income) but the sum offered seems too little, too late. Also, this policy doesn't cover the laborers and workers who work on these fields and are too poor to own their own land to be eligible for this benefit. It should also be made clear that how they intend to identify these farmers given the fudged up status of land records with regards to ownership within the country. Also, this new scheme along with the already numerous available subsidies will leave a huge hole to the budget deficit of our economy. The need was to provide a competitive price to the farmers which would offer them enough market revenue to sustain their crops and livelihood.
But given the abysmal state of land records in the country as a whole, whose rectification would take months at the very least, the idea that immediate payments within the current financial year itself can be made to the deserving beneficiaries, and that too to the tune of Rs 20,000 crore, defies reason. Little thought has clearly gone into the launching of this scheme.

Source : https://indianexpress.com/article/opinion/columns/interim-budget-2019-allocations-economy-gdp-the-boundaries-of-welfare-5567324/
With regards to the recently leaked National Sample Survey Office's (NSSO) Periodic Labor Force Survey report about the unemployment rate in India among different classes and regions, the budget offers little respite as all it's major schemes intended to generate a positive impact have failed drastically.
In fact, most of Modi's government policies on employment have been ill-advised and unsustainable—Make in India; Skill India or the Pradhan Mantri Kaushal Vikas Yojna; the Pradhan Mantri Employment Generation Programme; the Pradhan Mantri Mudra Scheme; and the Pradhan Mantri Rozgar Protsahan Yojana. For instance, in response to a query in the Lok Sabha, Shiv Pratap Shukla, the Minister of State for Finance, said Pradhan Mantri Mudra Scheme loans that have turned into NPAs have doubled in the last two years to ₹7,200 crore in 2018.

Source : https://www.newslaundry.com/2019/02/01/theres-nothing-in-budget2019-to-boost-jobs-or-employment
The RERA scheme by the government initially got off to a rough start, but has been able to formalize and organize the chaotic and messed up real estate sector within the country.
The construction of roads have been also growing at a steady rate but still many villages especially in the North-east are still awaiting proper connectivity.
Overall, 26.4 per cent of the villages for which data is available are not connected to pucca roads.

Source : https://theprint.in/governance/piyush-goyal-hails-indias-newly-connected-villages-but-26-still-await-pucca-roads/186739/
The biggest issue which will surround the future government is the budget deficit which will be like a ticking time bomb considering the numerous NPAs, Company debts, The RBI dispute, the registration of unclaimed assets, the failure to meet the estimated GST collection, etc as these problems if not balanced will spiral out of control.
It also does very little for women empowerment especially with regards to dalit women who were understandably outraged at the sheer lack of provisions for the most distressed and marginalized sector of society oppressed through casteism and patriarchy as the government allocated Rs 750 crore for protection of cows and measly Rs 147 crore for violence against women of all sections of society.
Many are crying hoarse over the NSSO report, which claims an all time high in unemployment in the country. However, the lack of disaggregated data based on caste and gender will never show us the figures for Dalit women. But one can only imagine the situation based on the UN report that revealed that Dalit women are dying 14.6 years earlier than general caste women. This is telling of the poverty, nutrition, health conditions, lack of basic services and right to life for Dalit women. It is no rocket science that the promise of LPG cylinders and loans of 50K under MUDRA scheme alone will not save the lives of Dalit women.

Source : https://feminisminindia.com/2019/02/02/dalit-women-interim-union-budget-2019/
Sources: YouTube, Feminism India, News18, NDTV, Indian Express, Livemint, Newslaundry.
Image source: Moneycontrol